Listed:

January 3, 2018 9:59 am

Expires:

13 days, 21 hours
Description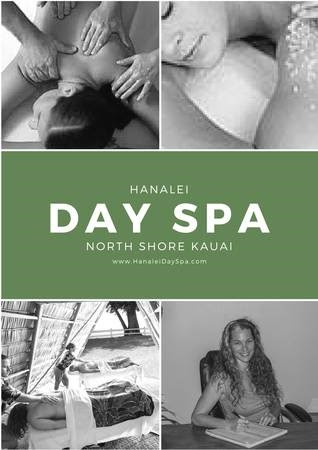 Hanalei Day Spa, on Kauai is now hiring P/T licensed massage therapist, or dual license Esthetician
We are in our 15th year and we have been successfully serving many happy repeat guests over the years.
Our boutique day spa team is filled with skilled contentious professionals who are; courteous, team players,
with good communication skills, and now we are looking to add to our already awesome team!
EXCERPT FROM OUR MISSION STATEMENT:
"We are a busy, boutique day spa dedicated to consistent, excellent customer service,
sharing our gifts in our own unique, fun and soulful way. "
GREAT PAY/BONUS/PROFIT SHARING
This is a part time job with great pay, and bonus incentives for specialty services!
In addition to your base pay, you can make up to an additional $30.00 per hour.
Bonus incentives include: An additional $5.00 per hour for Lomi Lomi, Prenatal, Beachside,
Hot stones, Deep Tissue etc. In addition, our guests consistently tip well!
WHAT THIS IS NOT
This is not on call, you get guaranteed shifts/work every week.
Work is it not based on seniority, massage therapists get equal work, fairly.A LITTLE MORE ABOUT US
We take pride in our work, love being professional and work in a NOT CORPORATE,
environment at a beachfront location, for an experienced massage therapist.
Spa Owner, Darci Frankel, is an experienced massage therapist/Ayurveda practitioner 26 years experience!
MA 7114Our awesome team of therapists love doing in spa and beach side massage in Kauai's only authentic Lomi Hale!
We are a busy boutique day spa, We have 4 treatment rooms; including 2 couples rooms,
one is beachside and one is in spa (see images).
ABOUT YOU/QUALIFICATIONS:
* Ability to work flexible days and hours, weekends and holidays, as well as cover for colleagues when needed.
* Must be able to lift a massage table, and 20 pounds, bend, (forward) bend over, twist, squat down.
* Have shared values of; excellent customer service, kindness, cooperation and service.
* Professional, responsible, reliable.
* Licensed in the State of Hawaii.
* Have reliable transportation.
* Possess a good work ethic.
* Reside on Kauai
Listing ID: 3535a4d3558abd7a
Subscribe to our Free "HeartBeat of Kauai" Email Newsletter